The Reaper is reborn! Steve Grimmett's version of Grim Reaper is continuing the standard set by the original group so long ago. For those of you unfamiliar with this iconic band, Grim Reaper was once a NWOBHM juggernaut. They had two successful albums and videos in heavy rotation on MTV but legal battles keep the group from reaching its true potential. The window of opportunity closed before the band could reach it.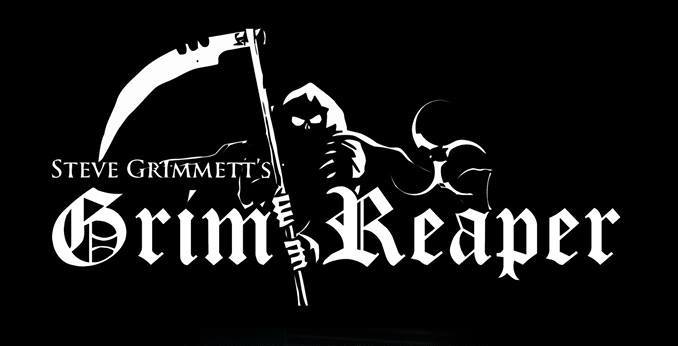 Festival appearances sparked renewed interest in the act and a revamped version of Grim Reaper was born. I managed to catch the group during one of these shows but I never would have guessed playing these events would lead to new material but apparently it has.
In September Grim Reaper released a new album, entitled: Walking in the Shadows, a music video was released for a song bearing the same name and I like what I'm seeing.
"Walking in the Shadows" is more than a performance video, it's a visual demonstration that this band still has the chops to be taken seriously.  I'm not really sure what the Reaper in the cloak with the book, chanting spells, had to do with the video maybe it was all preparation to take the esteemed vocalist to the other side. Either way, I don't really care. The trademark vocals of Steve Grimmett are the predominant force in this offering and the musicianship of this group is undeniably first rate heavy metal.
"Walking in the Shadows" isn't the most memorable video but it does its job. The song is first rate and the video is an accompaniment that reinforces the reason for these visuals, the Reaper has returned and he's waiting for you! \m/
Steve Grimmett's Grim Reaper are:
Ian Nash – Guitars
Paul White – Drums
Steve Grimmett – Vocals
Chaz Grimaldi – Bass